Fall Into Fitness with Spring Mill Athletic Club's New Fall Group Fitness Classes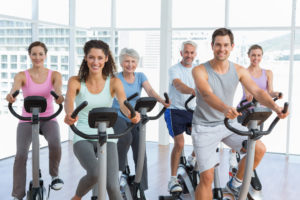 At the Spring Mill Athletic Club, our goal is to help every one of our members achieve the healthiest and happiest lifestyles possible, which is why we offer over 40 fitness classes that provide fitness solutions, no matter what your goal is. Whether you're a newbie or fitness pro, our new fall fitness classes have something for everyone.  
What's New?
When it comes to group fitness classes, there is no better fitness center near Warminster, PA, than the Spring Mill Athletic Club. Whether you're interested in a traditional fitness class or something more advanced our dedicated instructors deliver a unique fitness experience with every class they teach.
Spin
Grab your friends and join us for a high-intensity workout at our new spin class. Our group spin classes utilize a stationary bicycle to work a number of muscle groups by focusing on strength training and endurance building.
This fall we are offering a number of spin classes such as:
Cycle Journey

Spin & Core

Spin Fusion

S.M.A.C (Spin, Muscle & Core)

Race Day Ride
If you're looking for a one-stop-shop for all of your fitness needs, then our Spin Fusion class is perfect for you. The program infuses strength training with cardio to deliver an incredible full body workout.
Zumba
Get a boost of energy with new our Zumba classes that combine all of the essential elements of fitness such as balance, flexibility, cardio, and muscle conditioning. If you hate boring workouts and need something a little more energetic to keep you motivated, then grab your dancing shoes and join our lively instructors for a fun group Zumba session.
In addition to our traditional Zumba sessions, we've added aqua Zumba to our fall fitness lineup. This program adds a new level of challenge to our traditional Zumba program by incorporating water resistance training to create the ultimate high-energy, low-impact workout.  With energetic music and fun choreography, this is one pool party you won't want to miss.
Fall Favorites
We're excited to introduce our new fitness programs, but you'll still be able to enjoy your favorite fall fitness classes such yoga, barre, HIIT, muscle blast and pilates at our fitness center near Richboro, PA. For more information on our fall fitness class schedule, please call 215-309-8609.